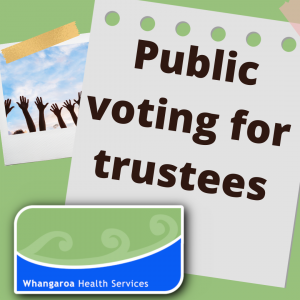 Announcement of Election
An election is to be held to select 5 Community representatives to the Board of the Whangaroa Health Services Trust
Meet the candidates
Join us to meet the candidates before you make your vote. Each candidate will have a few minutes to talk.
Thursday December 2nd 6.30pm at the Memorial Hall, Kaeo
Click on the names below to read candidate bios…
Maori Representative Trustee post: Only one nomination was received for the post. Therefore, as there are no other nominations, in accordance with the trust election procedure, the single nominee is automatically elected.
Polling will take place at the following venues and times:
Saturday December 4th
9.30am to 12.30pm Whangaroa Hall, Whangaroa
2pm to 5pm Memorial Hall, Kaeo
Sunday December 5th
11am to 2pm Totara North Hall, Totara North
Voters must be 18 years of age or older and have resided at their address for the past 3 months or more. Voters must reside within the Whangaroa area. All voters will be required to sign a declaration that they qualify to vote in this election. Please bring evidence of your address if possible. Any questions should be directed to the Returning Officer…
WHST Returning Officer
Returningofficer.whst21@gmail.com
021 089 58434