COVID-19 (Coronavirus) Community Testing Centres are being set up throughout Northland, with the first centres opening in Whangarei, Kaitaia, Kerikeri, Kaikohe and Kawakawa this Friday, 19 March between 8 am and 4 pm.
The purpose of a Community Testing Centre is to test people who have symptoms of COVID-19 and who have travelled overseas in the last two weeks or think they have been exposed to COVID-19.
The centres are for testing only and will not be providing medical care or assessment. If you are feeling unwell and are sick enough to normally see your doctor please call your GP for an appointment.
The symptoms of COVID-19 are:
a cough
sore throat
a fever
shortness of breath
These symptoms do not necessarily mean you have COVID-19. The symptoms are similar to other illnesses that are much more common, such as cold and flu. Shortness of breath is a sign of possible pneumonia and requires immediate medical attention.
Communities have access to Community Testing Centres across the rohe. Locations include Kaitaia Hospital, Kerikeri, Kaikohe, Kawakawa, Rawene, Whangarei, Dargaville and potentially Wellsford or Mangawhai. Centres will be open Monday to Friday, 8.30 am to 4 pm.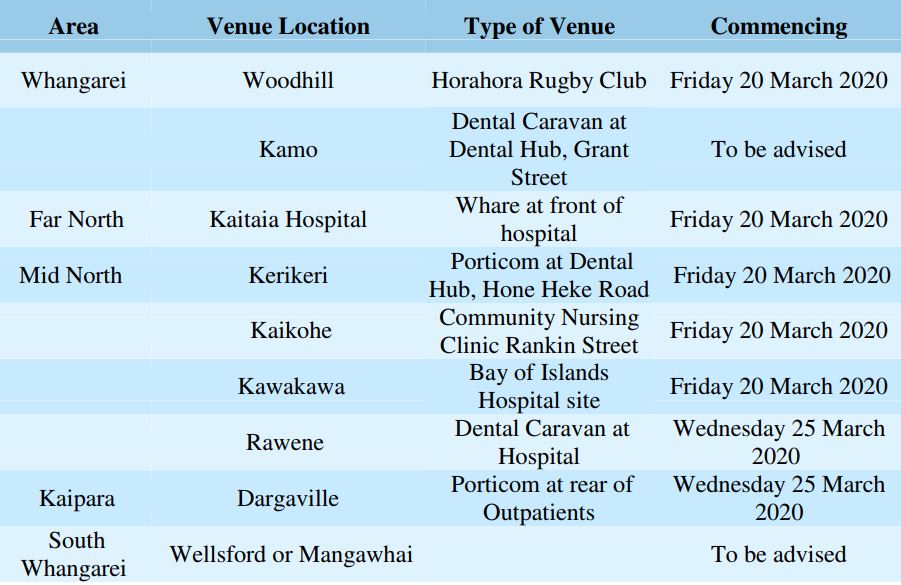 The aim of the centres is to take the load off general practice teams and emergency departments and reduce exposure risk for healthcare workers in other walk-in care locations.
While people are waiting to be tested they may be asked to stay in their cars, and will be advised to practice social distancing and keep 2 meters away from other people who are waiting.
If you can't make it to the clinic during opening hours it is safe to wait until the next day the clinic is open unless you need to see a doctor, in which case you should seek medical attention.
For more information on COVID-19 and Community Testing Centre locations and opening hours please visit our website – www.northlanddhb.org.nz or the Ministry of Health website www.moh.govt.nz
Prevention – how to protect yourself and others
Cough or sneeze into your elbow or by covering your mouth and nose with tissues.

Put used tissues in the bin or a bag immediately

Wash your hands with soap and water often (for at least 20 seconds).

Try to avoid close contact with people who are unwell.

Don't touch your eyes, nose or mouth if your hands are not clean

Avoid personal contact, such as kissing, sharing cups or food with sick people.

Clean and disinfect frequently touched surfaces and objects, such as doorknobs

Stay home if you feel unwell

Call Healthline on

0800 358 5453

if you have any symptoms and have been to any

countries or territories of concern

or have been in close contact with someone confirmed with COVID-19.